Like other citrus essential oils, bergamot essential oil (Citrus x limon / Citrus aurantium subsp.bergamia) is obtained from the cold expression of the rind of a citrus fruit. The actual fruit is inedible, it is very acidic and bitter. Bergamots are small and spherical in shape, eventually ripening to a yellow colour. Bergamot peel is used in the Mediterranean region to produce a highly scented candied preserve.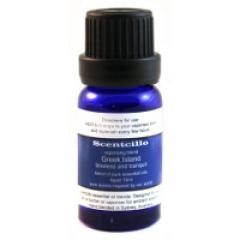 Bergamot trees can be found dotted throughout the coastal areas of Calabria and Sicily in Italy and the Ionian islands of Greece such as Corfu. Bergamot essential oil production began in the 16th century in Italy and to this day continues in Southern Italy, the oil from Calabria, in particular Reggio province, considered to be the finest. The essential oil's colour is determined by when the fruit was harvested for distillation, its light olive green shade eventually evolving to a yellow or pale brown colour. Bergaptene free bergamot oil, an ingredient of our Greek Island blend is redistilled to remove most of the constituents that are phototoxic.
In Napoleonic times the fragrance of bergamot was popular as a perfume and eventually became a key ingredient of the classic Eau De Cologne. The aroma of bergamot gives the distinctive flavour to Earl Grey tea.
The scent of bergamot essential oil is quite unlike the typical citrus, zesty aroma of other hesperidic oils. It can be described as sweet and fruity, slightly peppery with floral and freesia-like aspects.
It adds a refreshing, uplifting, joyous and cooling quality to the top notes of a blend and combines favourably with most other essential oils.
Bergamot adds a complexity and smoothness to the aroma of Scentcillo Greek Island, bringing to mind the warm rays of sunshine during a Mediterranean Summer, the tranquillity and blissful atmosphere of island living.
A study in 2009 in a Taiwanese university found that listening to soft music and inhaling bergamot essential oil was an effective method of relaxation.
More information on our Greek Island essential oil blend can be found in Greek Island essential oil blend - timeless and tranquil.