A native of the Philippines, Indonesia and Madagascar, the fragrant ylang ylang (or flower of flowers) can be found across the Pacific and tropical Asia. Ylang ylang trees (Cananga odorata) can grow to heights of up to 20 metres and its star shaped, perfumed flowers come in various colours such as pink, mauve and yellow.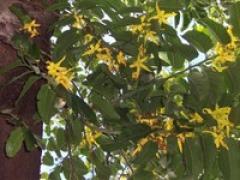 It is the yellow flowers that are considered the best for extraction of the essential oil. Ylang ylang is a widely used ingredient in aromatherapy and the perfume industry. Its scent, which can be overpowering to some, is similar to jasmine but not as costly, hence its nickname of poor man's jasmine .
Ylang ylang flowers with their heady, voluptuous scent are considered an aphrodisiac and are traditionally associated with romantic occasions such as weddings and honeymoons. In Indonesia the exotic smelling flowers are spread over the bed of newly-weds.
Essential oil distillation
The essential oil is extracted from the flowers, picked in the early morning, by steam distillation which yields four grades of ylang ylang oil - ylang extra and grades 1 to 3 . A complete ylang ylang oil is also produced by combining all four distillates. Ylang ylang extra, the first portion of the distillate and the most expensive grade, has the most potent scent of the oils and is used extensively in perfumery.
Distillation can take up to 24 hours and as it eventuates the oil that is extracted, at increasing intervals of time, gets progressively lighter in its aroma. The first fractions have a higher ester content in their chemical composition , therefore the oil is a more pleasant and sweeter floral fragrance compared to the lower grades which tend to be harsher or earthier in their scent.
Tango essential oil blend
We use a 1st grade Ylang ylang from Madagascar for the Scentcillo Tango essential oil blend.
Ylang ylang was chosen as the key note in the Tango essential oil blend as I think it is a reflection of the essence and feeling of the tango- its creamy, sweet, narcotic aroma conveys the sensual seduction and romance of the dance but there is also a spicy aspect and salicylate note in ylang ylang which represents the nostalgic and bittersweet emotions that tango also evokes.
As a Valentine's Day treat , here is a You tube link posted by tangomultimedia to the beautiful tango Perfume de Mujer (Scent of a Woman). Words by Armando Tagini, music by Juan Jose Guichandut (1927). Sung by the undisputed King of Tango, Carlos Gardel.